John Abraham: I'll find you and make sure you're punished, and other reactions on The Northeast fans Incident
Ragini Roy  |  Tragedy  |  1 Year Ago
In a video that went viral after Thursday ISL fixture between the hosts Chennaiyin FC and Northeast United, a bunch of goons are seen mocking the Northeastern fans, teased in the form of a racial attack, led by a drunk local fan. Ever since, numerous people from within and outside football fraternity have expressed their condemnation, evoking a strong response from the fans spread across the country.
Among the critics are Northeast United FC owner and superstar John Abraham, who issued a press release through the club Twitter handle, condemning the act before lashing out at the perpetrators.
"It's deeply disturbing for me when a sport becomes an unsafe or unharmonious place for anyone. Everything I have taken back from sport has only been positive. From learning to play with people who are different, learning to take loss with a sense of sportsmanship, winning with humility," he said.
John also offered support and assured that he will personally meet the victimised girl. "To the girl who was victimized by these insensitive and thoughtless people, "We'll stand with you and you'll never feel alone as you must've felt in that moment. I will personally meet you and make sure you are ok," he added.
Though it looked to be more of Safeguarding their own reputation as an organisation, Chennaiyin FC's fan club commonly known as The Supermachans have issued a press release of their own, denouncing the act and suggesting the guilty goons to be reprimanded.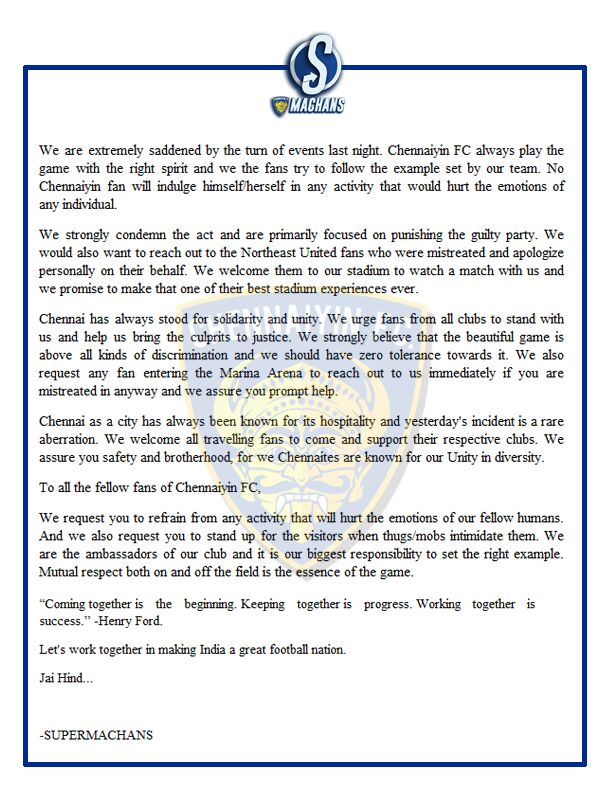 Elsewhere, Mumbai City FC CEO Indranil Das Blah took a snap at the whole incident, expressing his own concerns about fans security, besides raising questions upon the fans abusing the club owners too. Well, that sounds amusing to us how he managed to slip in his own bloody finger into the matter, for which he got a befitting response from a young Bengaluru FC supporter Ullas Marar, who said, "False equivalence. Racism isn't the same as booing an owner. If that's your gripe, ask the owner to stay home and watch football on mute.". However, the bigger question remains, Are we inviting a bigger problem by going too soft on the abusing supporters?
Booing and abusing owners. Abusing players. Abusing fellow spectators. Is this what we want to be? https://t.co/YIeezYevo6

— Indranil Das Blah (@indranildasblah) November 24, 2017
Well, Minerva Punjab Owner Ranjit Bajaj has a different say altogether. In his Tweet today, he opens up saying that he loved being booed by the West Block Blues of Bengaluru FC in the I-League last season. We saw in the Pre-Season match against Delhi Dynamos, Ranjit Bajaj not only congratulated the Delhi Dynamos fans but took an active part in chanting with them.
Well, as fellow Indians, we all believe that football or not, there's no place for racism in this great country and Jersey Football Magazine rebukes this act of hooliganism. We believe the mass outrage is justified and everyone should acknowledge the fact that fans or any club isn't bigger than the very essence of this country— Unity in Variety!