Following a woeful stint at Bagan and an incessant receding tailspin in the ongoing I-League, Ansumana Kromah was asked to bid adieu to Mohun Bagan. After repeated fiascos and abysmal outings in the fray, Kromah was approached by the club officials and was told that his services were no longer required for the club.
The meteoric downfall started after Kromah failed to convert a spot-kick against Minerva Punjab which led to a drubbing for Bagan at the hands of 10-men Minerva. Fans were enraged at his profligate nature and his playing style added to his woes as he seemed extremely tardy and sluggish. Half of the times, despite receiving the best of deliveries from his fellow team-mates, he squandered them away like the prodigal son and later rued his missed chances.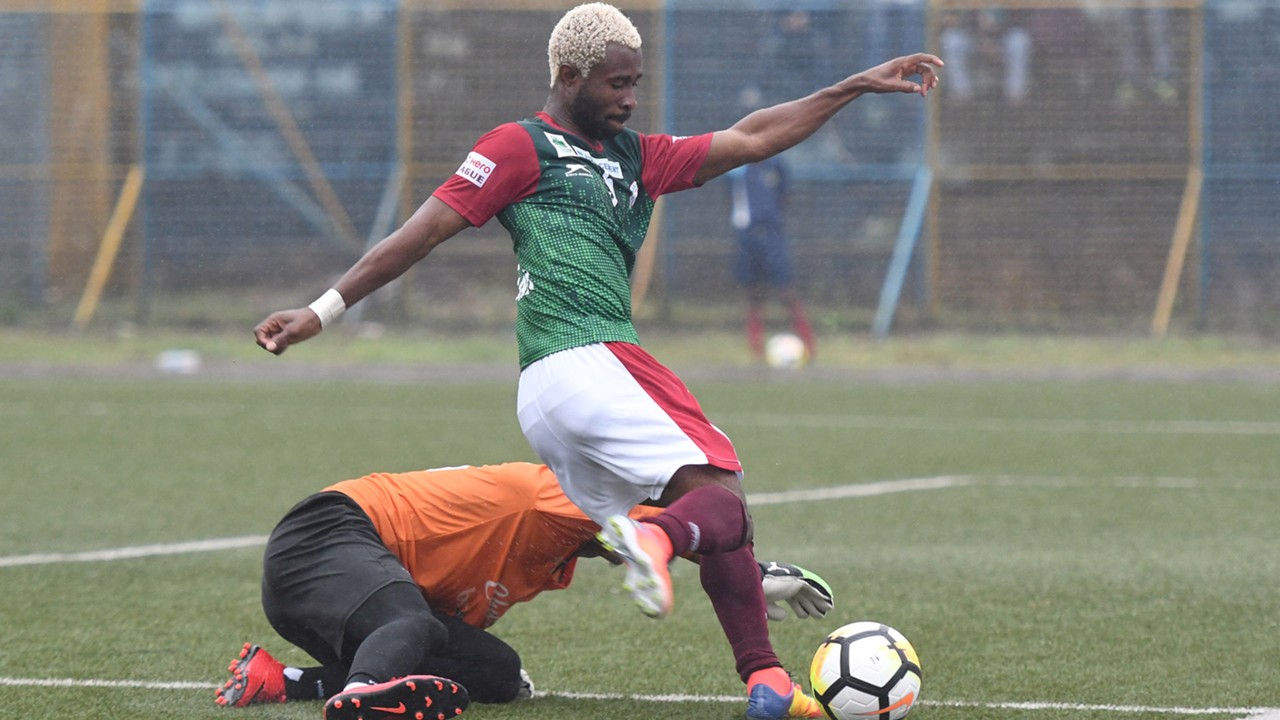 The club has had enough of his profligacy and would tolerate no more of this hogwash, as they terminated the services of this Liberian striker. The twist in the plot of the story came a couple of days later as Bagan's arch-rivals, East Bengal approached Kromah.
Owing to the injuries of Mahmoud Al-Amna and some terribly poor performances from Willis Plaza, East Bengal had to make a call. After a detailed deliberation with Manoranjan Bhattacharya, Khalid Jamil, the preceptor of East-Bengal decided to offer a two-day trial to the Liberian Kromah.
Kromah must be thanking his stars as his previous blistering outings in the colours of Churchill Brothers got him another opportunity to continue his spree in the current edition of I-league.
However, the communiqué is still to come out as to whether East Bengal will rope in the services of this Liberian stalwart. The reason Khalid wants him onboard is that of his creative finesse and Kromah is also capable of firing home when his team would need the much-needed impetus. However, it seems that he has fallen from grace right after the change of clubs.
This may be because of the burgeoning fan pressure. When he was in Churchill, there were a lot of fans too but the fad and fervor of those fans were not stinging, unlike the Kolkata fans. The expectation in Kolkata is way more than what was there in Goa.
Despite a few decent performances and with a few goals to his tally in the CFL, Bagan expected him to continue the same stint in the I-League and he failed to live up to the expectations. His first touches were so heavy always that he never recovered from them to finish the job that he was hired for.
Jamil is already under tremendous fan pressure and if this decision goes wrong for him, then there is a high probability that his job will be at stake. Coaches in Kolkata very seldom have shared decent farewells, no matter how good the team has performed under him. He must better start praying that Kromah can shirk off his failures and can return to his scoring boots soon if the club decides to take him onboard.
Is Kromah signing Khalid Jamil's desperate attempt to save the league?