I'm an East Bengal player and I don't pay attention to the talks, says Katsumi Yusa in an Exclusive Interview with Jersey Football Magazine
Rajat Dhamija  |  Tuff-Questions  |  1 Year Ago
Talk about football circuit in Kolkata, Katsumi Yusa is the name that has impressed thousands of football lovers for years. The Japanese midfielder came to India to first join ONGC before he came to Kolkata and remained ever since. The 28-year old has achieved many personal milestones and winning I-League title with Mohun Bagan was one. Till the last season, Katsumi had become the household name in Kolkata and the postboy for the Mariners.
However, it took less than a couple of months for Katsumi to become the most loathed name after the arch-rivals East Bengal secured his signature early this season. Katsumi not only silenced everyone with his unwavered performances but became the name Khalid Jamil could trust the most for his captain. Katsumi was awarded with Jersey Footballer of Month Award for the month of December 2017. He shared many interesting anecdotes with us before he exchanged flags with us.
Here's the excerpt from our conversation with the Japanese wizard:
Katsumi, thanks for speaking to Jersey Football Magazine. First thing first, what is it like to represent East Bengal after playing for so long for the arch-rivals Mohun Bagan? Considering from fans favourite to one of the most hated players in the Kolkata Football Circuit.
As a professional footballer I don't pay much attention to what many people say. When I was with Mohun Bagan, I gave my 100% and now I'm here. Nothing to do differently than playing my own game and helping my team win matches and trophies at the end of the season.
Which club is closer to your heart, Mohun Bagan or East Bengal?
East Bengal. I play for this club and I don't look behind. I implement the same policy in life also, if you look behind, future wouldn't be as great!
When you began your pro career, why did you choose India as your next home, considering J-League to hone better quality footballers.
Very simple, I didn't have any offer from any Japanese club before ONGC contracted me. I was left with two options, quit football or play for ONGC. Perhaps if I waited, I'd have gotten a team but because there we have much better quality, better than me of course, I might have ended playing in the 3rd Division or so and money would be lesser. I love football but end of the day its like a business for me. I've left my family back in Japan and I'm here to work, why? I must earn my own living to support myself and my family.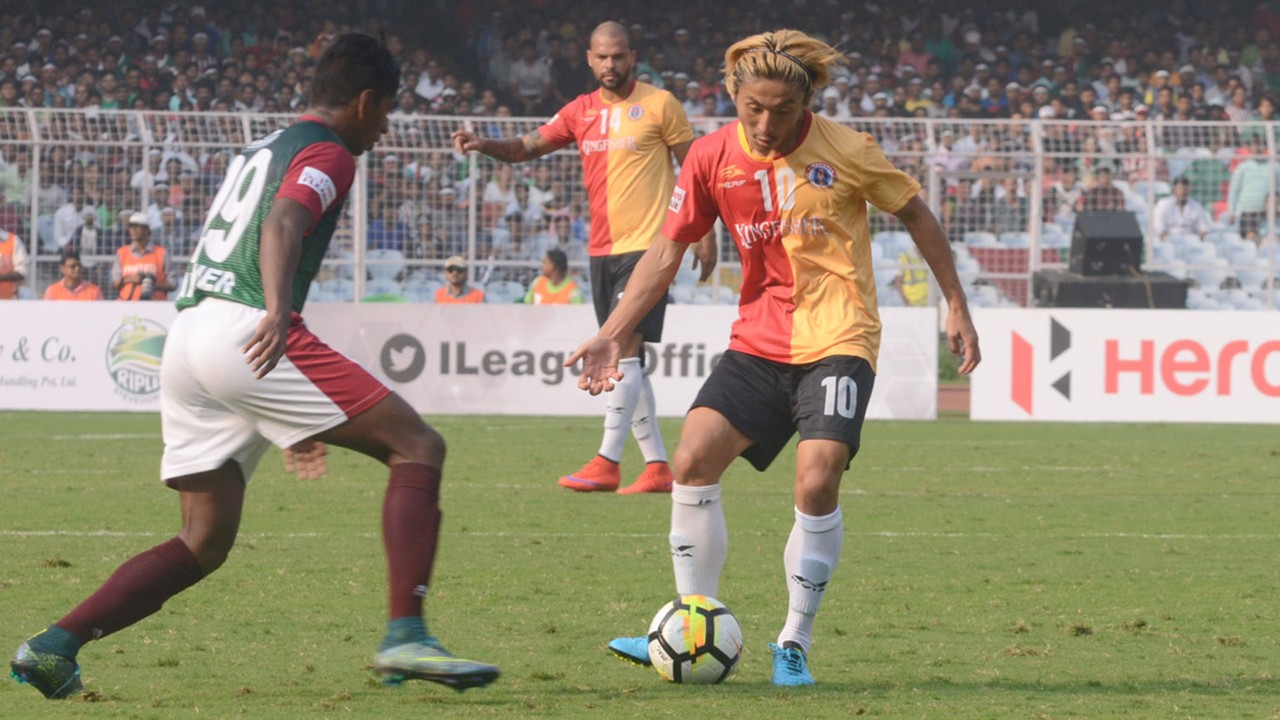 For past six years you've represented three of the top Indian clubs—Mohun Bagan, Northeast United and East Bengal. Have you not started getting offers from abroad?
If I wanted my agent to find me another club, I'd probably have found one but I didn't look out for another club as yet. India is like home for me and everything from food to accommodation to money is what I'm accustomed to now. If I go out tomorrow, I'll have to start from zero again. People know me here and they chant my name, I love it.
But don't you think as a Pro-footballer you've steadied your career as you must be looking for higher aim each season?
There's no limit. I have to choose my own limit as a footballer. With age more quality would mean more challenge to your own limits. The next season, more hardwood would ensure I reach my own threshold. If I try my luck abroad, maybe the league quality would be better, but since I have my own limits, I might end up getting lesser salary.
As we heard many ISL clubs approached you this season with better salary packages, then why I-League?
Mohun Bagan and East Bengal are the legacy clubs and have a rich history, they have loyal supporters and experience of running leagues. ISL has improved a lot in these years because of Minds than Players. The marketing has been tremendous but the quality of footballers hasn't grown as much. However, I'd still say that everything in ISL is perfect, from accommodation to food to quality training and match pitches, but in my view both I-League and ISL are competitive leagues now. You can't really compare the two.
You've played under I-League winners Sanjoy Sen and Khalid Jamil. How contrasting is their strategies to look at a particular game than any foreign coach?
I can't compare Indian and Foreign coaches. Khalid Jamil has a Pro-License and he's studied in Japan. He's a fantastic coach an dhas a good domain knowledge. He's someone who has a spirit of not losing against a foreign coach. This spirit is really great for any team to go up. People and many clubs have a tendency to rate Spanish and English coaches high. Now just because Spanish NT has done well over the years and Barcelona and Real Madrid are two of the symbols of Spanish football, doesn't mean the coach would be as good. I have seen coaches struggling in terms of tactics and knowledge. At Mohun Bagan we won the league under Sanjoy Sen. That time Ashley Westwood was the best coach int he country. This probably gives certain level of competition among the coach as well that they study harder to get results.
Katsumi, share your viewpoint as to why India is still dependent upon the foreign players for getting results, be it I-League or ISL. Its indeed true that to win a match, your foreign player must perform on top of their abilities, and why is it that Indian players aren't really counted on for it?
The difference is the quality of footballers that you play in your team. I agree, this is true but take a look at the ISL where the Indian players are performing much better. Balwant Singh and Sandesh Jhingan are fine examples. Though be it ISL or I-League the Indian footballers are from the same lot. However, in the I-League the Indian footballers' quality is lower because all the good players are already playing in ISL. But as both leagues are striving for success, I'm sure the players will also get better with time.
Katsumi, what do you do in your personal time?
My daughter is three months old. I speak to my wife and family. I prefer to stay home rather than going out. I listen to Japanese music and watch films. I love to look my own food as well. I go to gym and recover.
This East Bengal side is perfectly balanced in all the sections from Attack to Midfield and Defence. Do you think you have a good chance to win the trophy?
We want to win trophy and we'll give our 100%. Though we've always had good squads in past few years but always fell short of coming first in the league as well. This is my first season at East Bengal and I can say that everyone here strives to improve day-by-day. Everybody in this team is a performer. Yes, not everybody can get a chance in the first team in every match but the zeal to do better is instilled in this team.
Katsumi, who's your favourite Indian footballer?
Sandesh Jhingan. He was playing in Sikkim United in the 2nd Division and I was with ONGC. He didn't have long hair and was extremely thin. In these seven years, he's become a great talent for Indian football. No matter who he's up against, he never gives up in the field and always wins the ball.
What's your favourite International club?
Real Madrid, Anyday.
Your favourite International footballer?
Yannick Carrasco and Cristiano Ronaldo.
Jose Mourinho or Arsene Wenger?
Jose Mourinho. Mourinho is a hard working manager and he trusts his own style and tactics.
Thank you Katsumi Yusa to talk to us and Congratulations to become Jersey Footballer of the Month — December 2017.
For Full Interview, first login and revisit the page. Cheers!
Is Katsumi Yusa the Best Footballer in India?