Carles Puyol, Ronaldinho And Others Are Expected To Play in Mohun Bagan Vs Barcelona Legends Match
Rohit Ganguly  |  Just in  |  8 Months Ago
Kolkata was always deemed to be the cradle of Indian football. Not only did it beget paragons of the game, but also played host to several stalwarts of the game gracing India with their quintessential presence.
The last time India were fortunate enough to see legends duking it out on the pitch was when Lionel Messi's Argentina squared off against Venezuela. However, there have been individual clubs who were ennobled with the honour of hosting living legends and phenomenal teams.
Mohun Bagan was the most active side to play against legendary teams which toured India including the likes of Pele's Cosmos, Kahn's Bayern Munich, and Santos. They also played host to Diego Armando Maradona, who was an onlooker of a friendly played out amongst Kolkata footballing greats.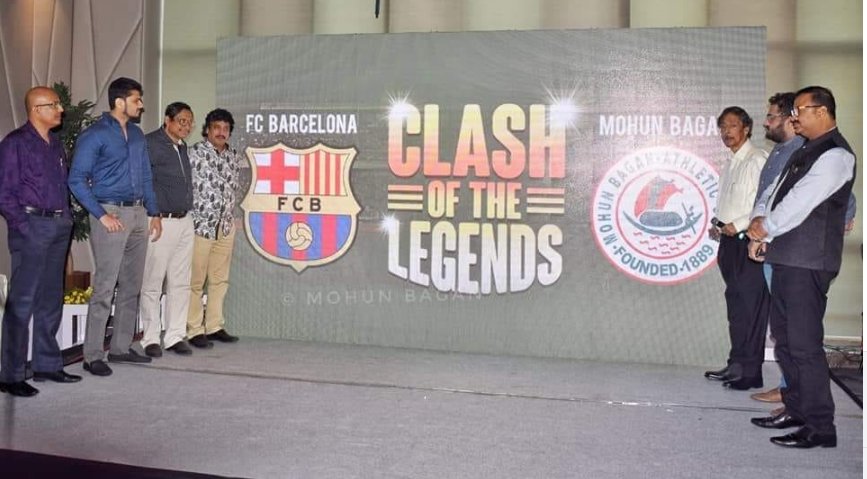 They are on the brink of another history as it has been made official that they will be pitted against the Barcelona legends in a one-off friendly scheduled to be on 28th September 2018. Definitely it will not be a full-fledged squad of Barcelona, however, the squad will comprise players like Ronaldinho, Carlos Puyol, Eric Abidal, Gianluca Zambrotta, Edgard Davids and Patrick Kluivert. Erstwhile Mohun Bagan legend, Jose Ramirez Barreto will don on the Mohun Bagan jersey against the legends.
In an official press conference at Acropolis Mall in Kolkata, Mohun Bagan brass confirmed that the match between Mohun Bagan and Barcelona is a go. This is going to be convened by Merlin Group in association with Football Next Foundation and Mohun Bagan. This match is going to be denominated as "Clash of the Legends".
Another high-soaring rumour which has been raking the Mohun Bagan tent for quite some time is the wild goose chase which the officials have been upon for roping in a sponsor in order to be a part of this year's ISL. After their recent parting with Mc Dowells and UB group, it is said that the officials are in hot pursuit of Aditya Dalmiya Cement group to be their sponsor and their stairway to the most glamorous league in the nation. Nothing has been confirmed as of yet. With time shall these rumors' veracity be verified.
Can Mohun Bagan legends beat Barcelona legends?