Comparing two individuals or situations is not much of a justice until and unless it's done in all the fairness. Through this piece we throw light on two individuals who in recent years have powered in some charge to the pendulum swing which stood rusty and was heading nowhere to find few moments of glory; if not too many. People in the frame here holds Northern Irishman-cum-the man of a 'Character' Brendan Rodgers, and the one who considers himself as a 'Normal one' a.k.a. Jurgen Klopp, the current manager of Liverpool Football Club.
As the derby day draw against Everton (back in October 2015) marked the departure of Brendan Rodgers who almost won Liverpool Football Club their first Premier League title, a breath of fresh air made its return to the fields of Anfield, as what was felt in Klopp's first press conference as a new manager where he announced: "If somebody wants to help LFC, you have to change from doubter to believer". And to be fair the German has succeeded to change the fanbase from doubters to believers as he heads into his fourth season in charge of the club.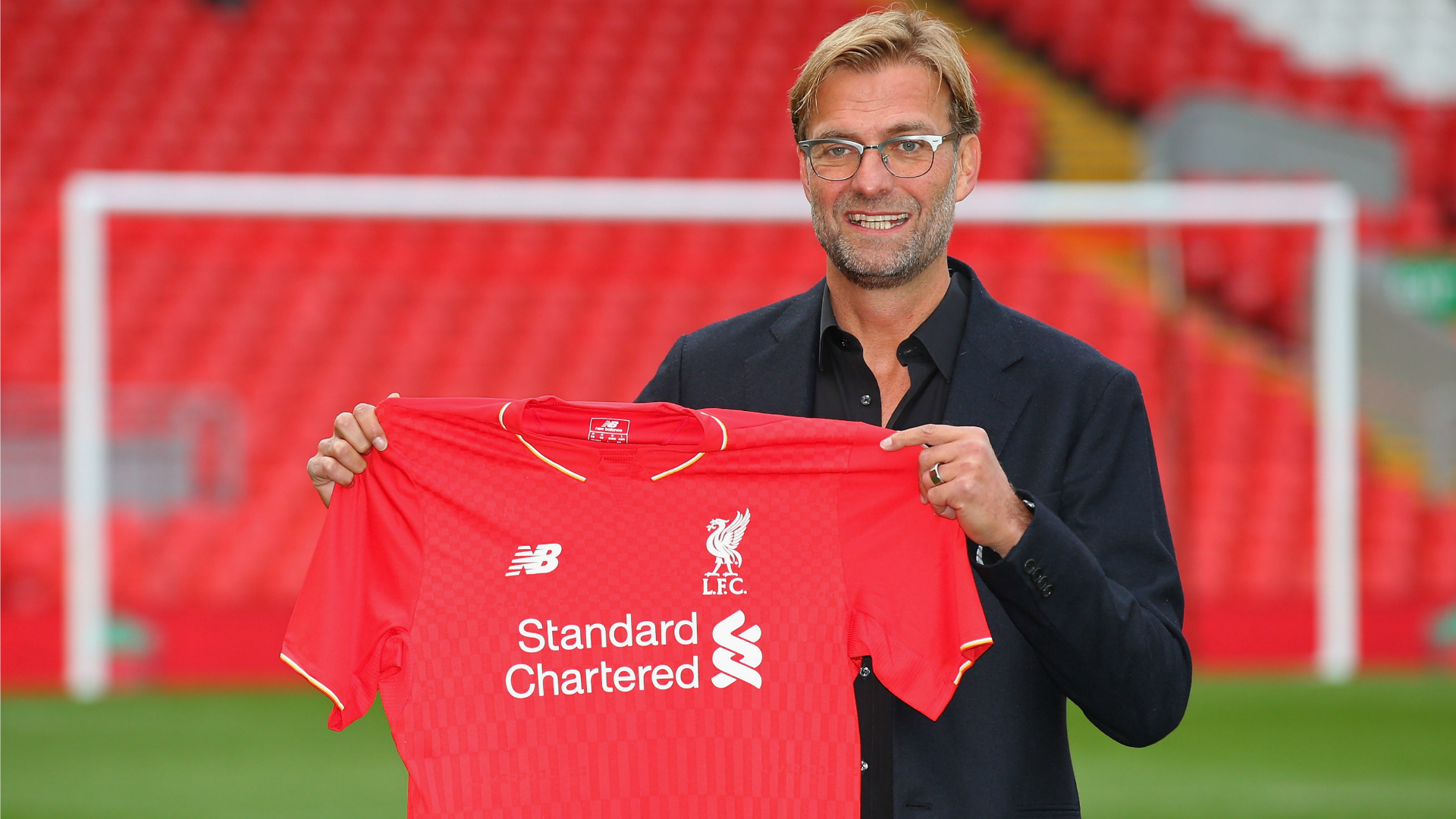 But can a better growth be equivalent to success? Certainly not! Though it can definitely lead you steps up in the ladder of thriving for glory, to which many would agree that Jurgen Klopp is certainly on a one. He is also the only manager since Rafa Benitez to guide the club to two European finals, one being Europa League 2015/16 campaign and recently the Champions League 2017/18 final; losing both 3-1.
Everyone understands that winning and losing is a part of the game but the true measure of success is only counted by wins. History won't remember you for just trying enough; rather it keeps you in its notebook if you truly rose up and attained that top prize. That mention in the books of history is what separates a legend from the rest of the other after all. Talking about the two pivots of current decade's Liverpool, i.e. Brendan Rodgers and Jurgen Klopp, let's find out where do they both stand in their association as the manager of this club.
Differences
History
Pick up the history of both the managers, Klopp on one hand is amongst the best known managers for his tactical ability across Europe. His past with Borussia Dortmund points the same-with whom he won many domestic titles and trophies, and not to forget the Champions League final appearance in 2013 which he ended up losing against Bayern Munich.
Brendan on the other hand didn't hold much of past experience of success other than taking Swansea City back in Premier League by winning the championship. His appointment as Liverpool manager after Sir Kenny Dalglish was a debatable affair. Since King Kenny got Reds a trophy after 6 years of drought, it was more of a shock move to many. Today he is a respectable figure at Celtic Park, but the magic he created with Liverpool back in 2013/14 despite not receiving good backing from the board about signings; he'll be a memorable figure for some good time.
Tactics
Under Brendan, Reds eventually developed to be a lethal strike force in the Premier League after a season of his charge at the club. During his second season he used 4-5-1 formation, a 4-4-2 diamond alongside 3-5-2 at times which worked good for the Irishman as his side went on a dream run but eventually slipped to finish second in the League. Though season before and next to it, inconsistency remained a big problem for his side. As much he made records like 11 straight wins in the league, getting 3 manager of the month awards in a season, his team suffered dismal losses in domestic cup games and in European outings.
Klopp's tactics were well known to many people before club signed him, which displayed Gegen-pressing and counter attacking football, or as popularly known as his 'Heavy metal football'. With the kind of squad he had at his disposal at Anfield, he deployed 4-3-3 formation with little glimpse of 4-4-2. Though perfect execution of heavy pressing style of football cannot develop over period of few months within any side but making it to Europa League final and English League Cup in his first season spoke highly about his style of play and how it can deliver results.
Positives
Brendan's Character
One of the biggest positives during Rodger's time at LFC was his ability to transform the team into something unexpected. Be it playing 17-year-old teenager Raheem Sterling on the wing or giving more youngsters the opportunity to showcase their selves. For one season it certainly paid-off, as for rest of the time Brendan's decision's remained debatable amongst fans and former players.
Klopp's Madness
Workaholic, man with a warm heart, loves giving hugs and doesn't shy away from celebrating to his own tune around touch-line; you won't find a better package of a manager than Jurgen Nobert Klopp. His character on whole is a biggest positive for any club which signs him. Having many memorable nights at Anfield in span of three years where he defeated his former club Dortmund in a dramatic way, where he got better on Manchester clubs on many occasions, and many more to mention, Klopp's way to involve everyone and make it feel like home changed the atmosphere around the club in a big way.
Liverpool which wasn't considered as a preferred destination by many players back in time is now viewed in high regard since the German stepped in and got his side performing better each season. From missing out UCL participation to having made it in two consecutive seasons (this year included) Klopp's work is none less than magic.
Three years back no one would have expected players to choose LFC over the likes of Chelsea or Manchester City, but world saw that happening when Virgil Van Dijk, Naby Keita, Oxlade-Chamberlain or recent addition Alisson Becker got transferred to Liverpool. The growth and development of youth academy and players has been another positive under Jurgen Klopp. Players like Woodburn, Ejaria, Wilson, Kent and few more are sought after by other clubs to sign. Liverpool's transformation under Jurgen Klopp is massive and it all looks a positive situation with the kind of backing owner's give to the manager which wasn't the case with Rodgers; though changing of board members has a big role to play in this.
Negatives
Messing up unnecessarily
Trying to force players to fit into a system by playing them out of positions was the heavily criticized feature of Brendan Rodgers work. During his first year he played Sterling as a wing-back, played the centre-back Joe Gomez as a left back ahead of Alberto Moreno, played Roberto Firmino as right winger and Emre Can as right-back. As bizarre it looked to the fans, the former Red legend Jamie Carragher questioned the obsession of Rodgers to fit players into his desired formation.
If that wasn't enough, Brendan's inability to fix up defense or get a better signing at back who could command the back line well was the loophole throughout his tenure as we eventually saw him getting sacked after managing his 166th game at the club.
Lacking 'Plan B'
Around last year Jurgen klopp confessed the lack of a 'Plan B' in a pre-match conference before Burnley game which left listeners a bit surprised. But even before he confessed it, one could observe the lack of any extra plan when game didn't went in a desired direction for Klopp. Was it due to lack of depth in squad or maybe avoiding the risk of experimenting one can watch it this season and assess. In the summer transfer window Reds have added some good depth in the positions where they needed it the most.
Conclusion
No doubt that both the managers bear something great to offer in their own ways and gave a glimpse of light to the Liverpool fans which they have been missing since years, the Jurgen Klopp's era seems to hold much weight as opposed to Brendan Rodgers time. What Brendan did during his time will stay dear to many fans and might break their heart at the same time (on missing out the league title), the Klopp's Liverpool looks promising and lethal on all fronts. Fixing the defensive issues through record signing, getting in a commanding goalkeeper and adding quality depth to his pot of players, a silverware should be Jurgen Klopp's target this season; which he has missed thrice with Reds in three years. So close and yet so far.
Who's better?