Face to Face: A Lengthy Conversation with Maya Yoshida to Sneak Peak into Japan's Chances in the Asian Cup
Team JFM  |  Tuff-Questions  |  3 Months Ago
Indeed Maya Yoshida had setup a new ground for Japanese football when he signed a contract extension with the Premier League side, Southampton FC. No Japanese player had ever done that before 2015. He has been a trailblazer, especially amongst the names that Southampton would boast of at a point in time.
In 2012 Nigel Adkins' ambitious Southampton signed two Japanese players. In January, they welcomed striker Tadanari Lee, on a free transfer from Sanfrecce Hiroshima. Then, in the summer, as they prepared for life back in the Premier League, they bought Maya Yoshida for £3m from Dutch club VVV-Venlo.
Three years on, Lee is back in the J League, with Urawa Red Diamonds. He struggled with injuries at Southampton, starting just nine games for them. Yoshida, though, is still at St Mary's, still part of a side which has done better since he joined than anyone could have expected. He has seen three managers and far more team-mates leave but he is as important as ever to a side who are threatening. It is a story, for Southampton and for Yoshida, of hard work confounding expectations.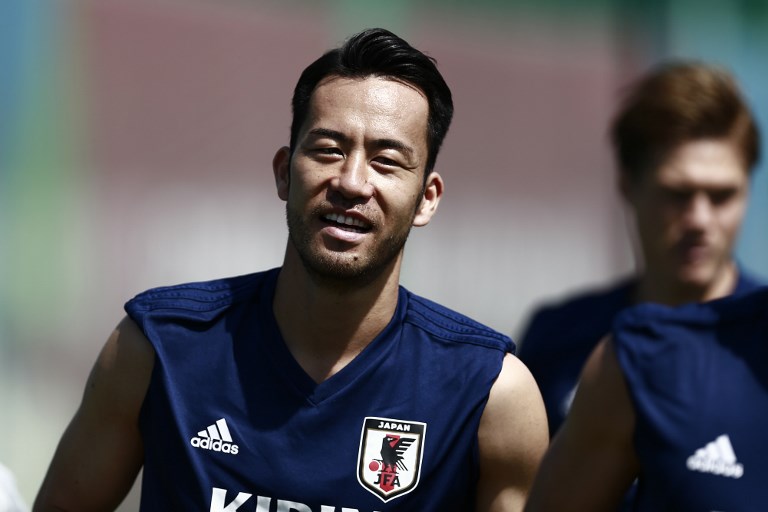 Yoshida admits to being surprised by just how well it is all going for him at the club and national team. Yoshida has been the captain for the country and an inevitable member of the St. Mary's squadron. The wizard shares his journey in Japanese colours and how he accidentally wins the biggest Asian football title.
"I don't know how it happened" says Yoshida. "It's so just happened that we were in swift form and everything happened all right for us."
It was just his second match for Japan and the tall Japanese scored against the upbeat Jordan in the AFC Asian Cup 2011. This goal would be remembered by all Japanese for how vital it was for them to remain in the competition to eventually win it.
"I can't say if it was the most important gal for Japan in the season; we had many scorers and scoring wasn't my duty but yes we were saved for the day."
Yoshida has the confidence and the distance now to look back on that afternoon as a "good experience" which has made him stronger. So what is the secret? How has he come to terms with life in the world of football better than any of his compatriots?
The first answer is obvious enough. Yoshida conducts this interview in precise, considered English, far better than it was when he first arrived. "My English was not perfect at the beginning," he remembers. "I had been in Holland for two and a half years, and they speak very easy English, which is good for a first step. But when I came to Southampton, people spoke very quickly. If I spoke to Rickie Lambert, I didn't understand everything. The guys from Ireland, Shane Long and Davo [Steven Davies], or Sammy Lee, it was very difficult. But after two and a half years, I can understand more and am more comfortable. Life is easier."
Yoshida clearly has high standards. Having learned English, he is now teaching himself Spanish, so that he can speak to "50 per cent of the world population"
"This problem of people who cannot speak English –this is a problem with Japanese education," explains Yoshida. "When I was young, I studied English since I was 12, in middle school and high school. But after six years studying English, people can read English, understand a little bit, but cannot speak English. It's English for an exam, not for talking. And if they cannot speak English, there are no opportunities.It's a shame. Some Japanese players are lazy."
His commitment to learning the language is why Yoshida can now organise a defence, performing a role some of his compatriots cannot. "Not all positions are the same," he says. "The most difficult for Japanese people are striker, centre-back and goalkeeper. I am the only Japanese player playing as a centre-back in Europe – not only Japanese but Asian. Goalkeepers, there is maybe just one, my friend [Eiji Kawashima] in Belgium.There are many Japanese midfielders and full-backs, but the key positions are not as easy. You have to lead the team. If you cannot speak the language, you cannot lead the team. That is the difference between me and another position."
The other barrier, which Yoshida has also conquered, took just as much work.
"The biggest reason is physical size," Yoshida, who stands 6ft 1in, explains. "Gym sessions here are totally different. I am the tallest and biggest in the Japan national team but if I come to Southampton I am normal. That is the reason. Compare the difference between a Japanese striker and [6ft 4in] Graziano Pellè – he's a monster. Fraser Forster [6ft 7in] is a monster. We don't have players in Japan like this."
Yoshida shares his shock when he first saw Lambert in the gym at Southampton, and how he found the dumbbells too heavy to lift. He trains with Southampton's full-backs, rather than the other centre-backs, but over time – especially while injured – he has bulked up, putting on 5kg of muscle since arriving at St Mary's. He used to be able to bench press 65kg; now he can go up to 80kg.
Having established himself in the English game, Yoshida now wants more, not just for himself but to prove to the next generation of Japanese and Asian players that they can flourish as well. "If people call this success, it is not enough for me," he says, always aiming higher for the sake of those who will follow him. "I know I am one of the only two Japanese player in the Premier League. I want to be a pioneer, for Japanese players playing in Europe, but I still want more: 50 games and two goals— three including the [League] Cup – is not enough. I want to make more difficult hurdles for [the sake of the] next Japanese players.
"My success in the Premier League will help show the way for other Japanese players. I have to play well. My success equals Asian defenders' success. If I am a success maybe an English team will think 'a good Japanese or Asian defender would be good for us'. That is my job."
Asian cup is the next hurdle Maya Yoshida is aiming to conquer. "It's been eight years and Japan needs another trophy in the cabinet," says confident Maya Yoshida.
Japan have had an unforgettable World Cup in Russia. They managed to scrape up four important points out of possible seven— beating Colombia and playing stalemate with Senegal. Thanks to such brilliant performances, Japan have climbed up to 50th position in the latest FIFA world ranking while staying at 3rd in Asia. Shinji Okazaki will be Japan's highest-profile absentee at AFC Asian Cup 2019 after being left out of coach Hajime Moriyasu's 23-man squad. Kagawa, who has been a mainstay for the Samurai Blue since winning his first cap over a decade ago, has paid the price of failing to play regular first-team football at Borussia Dortmund, having made just two appearances in the Bundesliga this season.
Other big names missing from Moriyasu's squad include veterans Shinji Okazaki and Eiji Kawashima, Bundesliga-based duo Takashi Usami and Yuya Kubo, Newcastle striker Yoshinori Muto, and Real Betis winger Takashi Inui, who was Japan's top scorer at the 2018 FIFA World Cup with two goals.
Nonetheless, there will still be plenty of experience for the Japanese to call on from the likes of Maya Yoshida, Galatasaray left-back Yuto Nagatomo, midfielders Genki Haraguchi (Hannover) and Gaku Shibasaki (Getafe), and Werder Bremen striker Yuya Osako. In addition, the tournament should serve as a platform for some of Japan's rising stars to show they have what it takes to lead the side into the future. Particularly, the Europe-based trio of Shoya Nakajima (Portimonense), Takumi Minamino (Red Bull Salzburg) and Ritsu Doan (Groningen) have all impressed in recent friendlies, and it should not come as a surprise if they are entrusted by Moriyasu to play a key role in the Samurai Blue's bid to win a fifth Asian Cup.