Football might be a sport of joy but at times it leads to frustration in the course of events. Harsh tackles, illegitimate celebrations, and useless brawls destroy the beauty of the game. For this, the referee needs to take control of the game. Cards are shown to the respective players who are guilty of the act. Over the course of decades, football has seen some of the bloodiest fights and tackles. Here, we take a look at The top 5 footballers with the most red cards in the game.
5. Pablo Alfaro: 18 red cards
Spanish retired footballer, Pablo Alfaro has played in six teams in La Liga, with big teams being Barcelona, Sevilla, and Atletico Madrid. Alfaro has received 18 red cards and has been sent off for at least 30 times.
Pablo Alfaro has been lucky to have escaped from a booking quite a few times because of his nasty players. He joined coaching two years later after his retirement in 2007.
4. Paolo Montero: 21 red cards
Uruguayan footballer, Ronald Paolo Montero Iglesias comes next in the list. Montero has played the major part of his club career in Italy. As a strong, physical central defender, Montero has been prominent in Italy. After four seasons with Atlanta, he made a switch to Juventus where he spent his prime. Juventus was extremely dominant in this period both domestically and internationally which was mainly due to its extraordinary defense.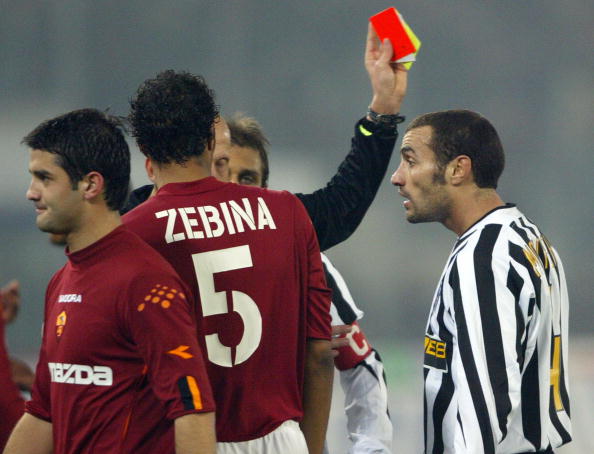 A composed yet skillful defender of his time, Montero did not succumb to pressure. The Uruguayan international was also criticized for his unnecessary tackles and a knack of picking up frequent bookings. He holds the record of most red cards in Serie A having been red carded 16 times with total sending off standing at 21.
3. Sergio Ramos: 23 red cards
Spanish international, Sergio Ramos comes third in the list with the most red cards in La Liga history. Last weekend, Ramos has been sent off in Real's 1-2 loss at home against Girona. He is now the highest number of red card receiver in La Liga.
Besides being red carded, Ramos has been a nuisance in the field with some dirty acts. Last year, Ramos pulled off Mohammed Salah which resulted in an injury to the shoulder which leads him to be subbed off after half hour in the Champions League final. Ramos also has the highest number of red cards in El Classico, being sent off 5 times.
2. Cyril Rool: 25 red cards
Retired French footballer, Cyril Rool is the next person in the list. Rool took up a whopping 187 yellow cards in his career at Ligue 1.
A career spanning of 17 years, Rool played in Marseille and Monaco on loan spells before settling down at Bordeaux and later at Nice. He last played for a couple of matches at Marseille before retiring at the end of 2010 season. Rool was famous for starting brawls, kicking opponents and going to tackles blindly. He received a cumulative 27 red cards in his career.
1. Gerardo Bedoya: 46 red cards
Arguably the dirtiest player ever to step on the pitch was Colombian footballer, Gerardo Bedoya. Bedoya was at the receiving end of 46 red cards in his career. The only prominent clubs in his career are Boca Juniors and Nacional, where he spent brief stints in 2005-06.
In the Bogota derby between Independiente Santa FC and Millonarios, Bedoya was sent off after a nasty elbow and a kick aimed at the head of Millonarios player, Jhonny Ramirez. This gruesome act got him suspended for 15 matches. After retiring, Gerardo started his managerial career at Independiente and got sent off into the stands during his first game in charge! Some people never change.