Khalid Jamil, the man who had Aizawl FC to their maiden I-League glory is now linked with a move to Kolkata. It was earlier reported that Khalid had turned down a big money move to East Bengal as a player in 2001. It was also reported that the main reason for turning down the offer was the club sponsor, the liquor brand. Destiny is pointing Khalid back to The Red and Golds again!
Khalid Jamil is all set to take over the reigns of East Bengal FC after the club mutually parted ways with the Englishman Trevor Morgan towards the end of the last season.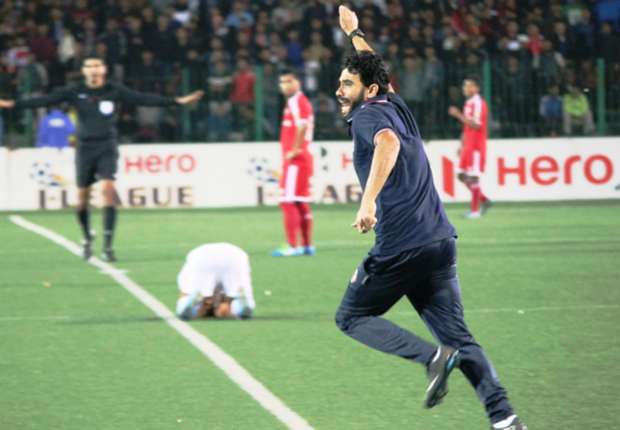 The deal began to initiate after the Red and Golds had signed Lalramchullova and Mahmoud al Amna for the forthcoming season from Aizawl.
The former Mumbai FC manager earned the Indian football's Coach of the Year title in the AIFF Awards 2017 this tuesday. If the move goes through, Khalid will be looking forward to repeat the success with the Bengal giants who ended third behind the champions and Mohun Bagan last season.
Jamil is a coach full of innovation and invention. His steps which initially sounded dumb, later brought glory to Aizawl. Innovations such as, pushing winger Jayesh Rane into a more central role and using striker Alfred Jaryan as a central midfielder will all be a part of his brain works that East Bengal would like to inherit. He is a man who is tough in his job and will make this a much more compact and disciplined team.
The last man in the East Bengal managerial history of that personality was Subas Bhowmick. His man-managerial skill, micro-management of the players by giving them freedom to express themselves. He used to extract the best out of what he had in the squad. This is quite similar to what is often said of Jamil.
Khalid's appointment is a sign that East Bengal have finally decided to invest in a young coach, consequently giving him time to build a team, without the pressure of delivering from the first day.
We know well that Kolkata is quite different to the other parts of India; so are its football followers. Jamil would need to try and stay on the good side of the supporters as well as the club officials with his diplomatic nature off the field and the performance of the team on it.
If this move is ultimately confirmed, the energy and calm calculations of Khalid Jamil might change the fate of East Bengal and finally make the club the National Champions after a long span of time!