Jayesh Rane speaks to Jersey ahead of his maiden FPAI Best player nomination and Khalid Jamil...
Neelam Sharma  |  Tuff-Questions  |  1 Year Ago
Talk about one Indian footballer who's made every other footballer in the I-League or Indian Super League look like a pebble, it's the Chennaiyin FC and Aizawl's colt Jayesh Rane. There's nothing in the last calendar year wherein Jayesh hasn't glittered, not only as a footballer but even as a human being. From becoming one of the best emerging Indian players in the ISL to winning the league with Aizawl, Jayesh is now in news for his social work besides being nominated for the FPAI Indian Player of the Year. Truly, Jayesh Rane the name deserves it all in the Indian football circuit and if anyone who's followed his progress, he'd know how hardworking, always hungry for success the Mumbaikar has been since his inception.
Jersey correspondent Neelam Sharma spoke to the Aizawl Posterboy ahead of the award ceremony about his deeds and what he thinks about the kind of football he's playing at the moment. Jayesh, talking to Jersey for the second time is as cheerful, ambitious and grounded as we first spoke to him last year. Here's the excerpt…
Jersey: Jayesh rane or Indian Neymar?
Jayesh: Obviously Jayesh Rane! I would like to be called by my name.
Jersey: How does it feel to win both ISL title and I-league, which one was more special for you?
Jayesh: Actually both were very special to me, ISL because it was my first and Chennai was going through some difficult times that time and Aizawl because of the fans and the history that we created!
Jersey: I know you would be disappointed with not getting the National team callup, what's your take on it?
Jayesh: As per me, I must be lacking something that's why I'm not there! It only makes me work harder and I think I will make it there soon.
Jersey: You and Ashutosh have started fund raising for Mizo flood victims, how is the response?
Jayesh: The response is amazing, but not as much as we expected. People are just commenting and liking the posts that I have put up, but I would love if they donate a minimum amount also, it will be of great help for the people in Mizoram!
Jersey: Tell us something about your family, your source of inspiration?
Jayesh: I'm here all because of my family, they have supported me every time! My mom Neelam Rane and my Dad Dilip Rane, they are my biggest supporters! And also my brothers, Kalpesh, Nitin and Sachin! I'm lucky to have them! But I started football because of my uncle Rajesh Rane, he used to play really well but didn't make it big because of his knee injury! But I'm pretty sure he is looking from the heaven and is happy on my progress!
Jersey: This was expected that khaild Jamil wouldn't stay at Aizawl after the title winning stint with Aizawl, but with a whopping deal at East Bengal, do you think Khalid would be able to handle the pressure and deliver similar success at East Bengal, especially when East Bengal going trophy less for 14 years at national level?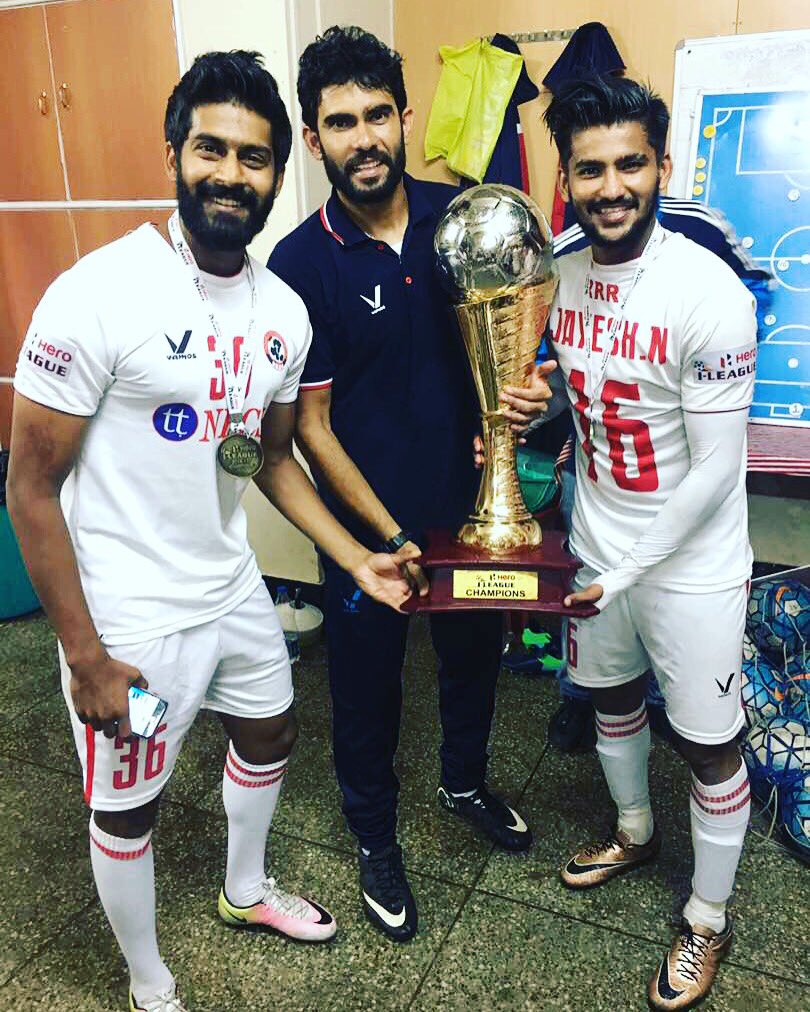 Jayesh: I think it will be a very tough task for khalid sir, but he is a mastermind! He knows how to get through to every situations! I'm sure he will handle the pressure well and deliver what East Bengal wants from him.
Jersey: You have played under Khalid at Mumbai and at Aizawl, what difference did u notice at Aizawl in Khalid?
Jayesh: I think he was the same! The training, the behaviour, the kindness towards the players, all were like before! But this time he wanted to prove something and he did it! I'm very happy for him.
Jersey: A word about you nomination(Best player of the year ) at FPAI.
Jayesh: I would send my gratitude to FPAI for the nomination! And now it's on the fans to decide their favourite player! May the favourite one win.