What's in the name?
Sanjiv Goenka announced today that the partnership between two-time ISL champions Atletico de Kolkata and the Spanish giants Atletico de Madrid has officially ended and the team will now be called "Amar Tomar Kolkata" (Yours and Mine Kolkata); keeping the ATK name intact.
"The name of the team is the name of the team. We are ATK. The full form is Atletico de Kolkata but it's also 'Amar Tomar Kolkata," Goenka said.
Amar tomar kolkata seriously ..what were you high on @atletidekolkata @SGanguly99 when selecting the name

— Gaurav (@g10bhansali) July 22, 2017
#atleticodekolkata are now Amar Tomar Kolkata. Haha! It's not just #bongsindelhi who are fools. The rot runs deep

— T-Bag (@Tushar_Jerry78) July 22, 2017
Calling ATK as Amar Tomar Kolkata is like the India team being named Mera Bharat Mahaan.
Kolkata FC wouldve been nice. #ISL #ATK #kolkata.

— DarkerKnight (@vinaykrish7) July 22, 2017
I was the fan of "Atletico de Kolkata" not "Amar Tomar Kolkata". Seriously @atletidekolkata za, 🤓🤡 you got no worst name than that?? 😪🤒

— Sushant Agarwal🔵 (@sushant_ddn) July 22, 2017
About dissolving the association between the team and the Spanish side, Goenka said, "Atletico de Madrid and ATK have come to an agreement that they will not be part of ATK going forward. I don't know why there's still a speculation. We have had a good relationship and we continue to be friends."
There won't be any change in the team's jersey as the official kits were revealed at the team's first media interaction today.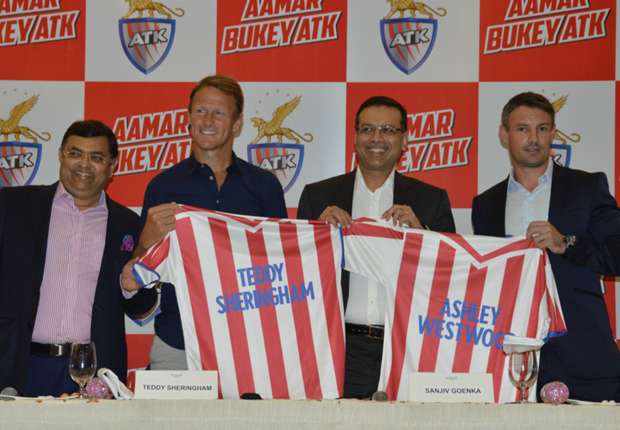 It sure is an unusual name for a club, but it's also quite normal considering they are going to use the shortened form most of the time, which is ATK, same as before. The name is merely an expanded version, which in hindsight describes the passion of the game.
ATK is all set for the upcoming ISL with a (not so) brand new name, in addition to a brand new coaching staff; with Ashley Westwood as the technical director and Teddy Sheringham as the head coach. Now all eyes are going to be at the Indian Players' draft in Mumbai tomorrow.
Now the most important thing is to observe as to how the critics of Kolkata, especially those of the I-League fans receive the Brand new name of their ISL club !