Aizawl's establishment on the national platform in the Indian football is no less than a fairytale. They not only won the trophy, they've resurrected the fact that football is all about passion and rest falls behind. However, what comes after is the bigger responsibility than winning the league— Repeating the feat. Now with the new season arriving and with the dreams of achieving another great season in the race of the championship, the highlanders have signed the former Minerva Punjab captain Kareem Omolaja Nurain earlier this month to strengthen their bruteforce.
The 27-year-old Nigerian has an in-depth knowledge about Indian football, and why not, after all he's been in the sphere for many many years. After fielding for the likes of Royal Wahingdoh, Southern Samity FC, Mohammedan Sporting Club and others before joining the debutants Minerva last season, Nurain attracted many eyeballs as the central defender was seen heckling the opponents by playing a striker's role for the Punjabis.
Nurain spoke to Jersey's Arka Acharya right after signing his new contract about his new chapter in his career and much more…
JERSEY: Hello Kareem. First thing first, Congratulations on your big break! You are now a part of the defending champions I-League. Are there any butterflies in the stomach?
Many thanks Arka. Aizawl is a great club. It's really a great pleasure to be a part of the Aizawl FC family. (Laughs) No there are no butterflies, but I'm sure they'll develop soon…
JERSEY: Kareem, take us through your journey as a footballer in India?
Well, it's been a long journey. I came to India to play for JK (Jammu and Kashmir Bank FC) before moving to JCT(Now dissolved). I have played for big names too like Southern Samity, Mohammedan Sporting Club and last year I have played for Minerva Punjab. It's been a pretty great journey so far. It's not easy to start from a small club and have a breakthrough. But that has made me who I am today.
JERSEY: You were on loan to Tollygunge Agragami from Minerva and then you decided to play for Aizawl. What triggered your mind to play for Aizawl?
Before Minerva I have played for Mohameddan Sporting Club. In 2016, I joined Minerva then I went to Tollygunge Agragami on loan. After that I went back to Minerva again. When the league finished, I got a message from Aizawl. They wanted to know if I was interested in playing for them. It was an interesting offer which I didn't want to refuse. So I told them I was interested and that's how it happened.
JERSEY: How was your experience with Minerva Punjab last year, considering the fact that they're new but passionate.
It was great. I have played I-League before so I knew what to expect. It was special with Minerva because of the familiarity. I enjoyed my time there with the boys.
JERSEY: But it wasn't your best season with Minerva, right?
You can't really say that. We got the confirmation to play the league only 25 days before it started so we had 25 days to prepare ourselves. We cannot really compare ourselves with other teams because the situation was very different. We tried hard and it was overall a good season.
JERSEY: Now, I want to ask you what almost every Indian wants you to answer. Who's the toughest Indian you've played against so far?
I would say Sunil Chhetri and Balwant Singh. Both of them are very hard to play against. They have skills, they are fast, and they are strong.
JERSEY: We've seen an avatar of yours playing and scoring as a striker for Minerva last season. It's unusual in professional football. How did you really manage it?
If you notice, most of the times I score from free kicks and corner kicks! In 2009 I was the joint highest scorer in a tournament with Jammu and Kashmir Bank FC. There also, I scored from free kicks. In practice I don't play as a striker. I only practice in my normal position which is the centre-back. But at the end of my practice sessions, I practice free kicks and header regularly.
JERSEY: And what's the difficulty level?
Not at all! You already know the players. You understand them, they understand you. They know the capacity of what you can do. When you play for a club for a long enough time everyone knows your capacity. They know what you can give the team. When I played for Minerva, the coach understood me and used me sometimes in the middle, sometimes upfront.
JERSEY: Name the best manager who you've under.
Sukhwinder Singh. Most of the Indian coaches I played under they're calm. They know how to deal with the players, what we need at the right time. I also liked playing under Mridul Banerjee in Kolkata. All of them are very good in their job.
JERSEY: Kareem, you have started your career in a very young age. So, Tell us about earlier days of your football career?
I started as a street footballer and then got picked up by an academy in my city. Actually when I came here I got an offer from Indonesia. But I wasn't allowed to play there due to visa issues. That's how I ended up here in India.
JERSEY: You have represented Nigeria in All West African Academical Cup which Nigeria eventually won, and you got the best defender of the tournament award. How was that experience?
When we won the tournament we actually got the invitation letter to come out and play. I was very happy because everybody wants to play for their country. Especially in Nigeria, everybody plays football, every family has a football player and it's a huge country. So it's obviously a very big achievement.
JERSEY: What's your impression of Aizawl, since you've travelled places in I-League?
I'm very happy to be here. It's a very balanced team; they have young players as well as players who are more experienced. Coming to Aizawl is really good for me and it has made me respect the game more because (they play) the kind of football we need to focus on playing.
JERSEY: Now that you're a part of Aizawl, what according to you is their biggest strength?
What I have gathered is that no team does well if they depend on one player. Every player needs to contribute their share for the team. So it's not about the 'best player.' They (Aizawl) have good set of players; they have the strength and energy to excel individually as well as a team.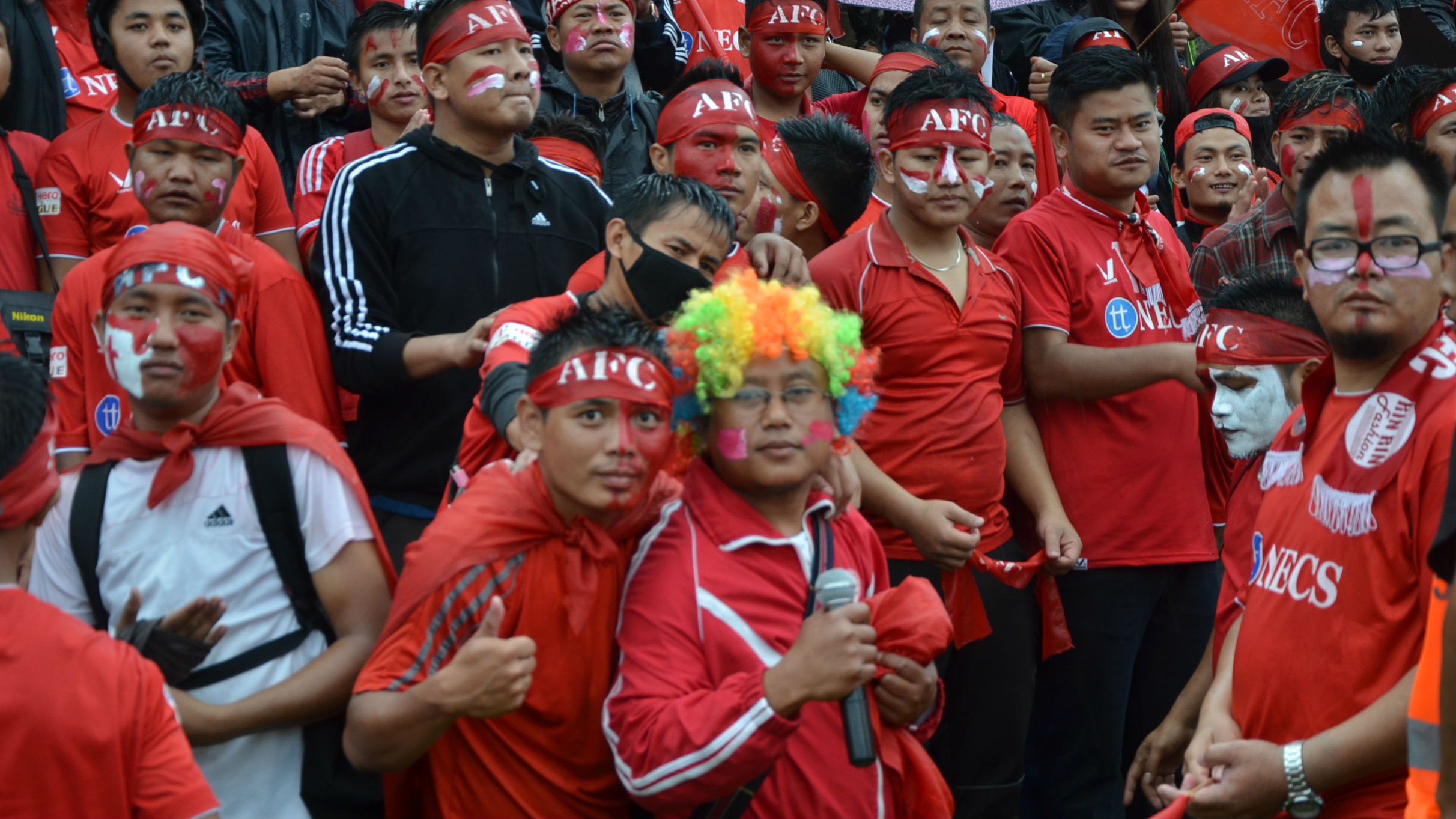 JERSEY: How are you gelling up with your new teammates, any issues that you're facing?
Not at all. I have played in the north-east before, for Royal Wahindoh FC. When I used to play for them, there was no problem for me in terms of adjustment. I have even played against Aizawl before, possibly five or six times. It's not new for me. I'm well versed with all the players. So there is no problem in terms of understanding as I know most of them beforehand.
JERSEY: You're a lucky player to be playing in such a beautiful location. Have you already fallen in love with the place?
It's really beautiful out there. There is nothing I can't love. The whole place is lovely and welcoming. Playing (in the stadium) surrounded by nature is the best part.
JERSEY: How different are the Aizawl fans from the rest of the country?
Kareem: I have seen them when I played against (Aizawl). They have this passion for the game and their club! No matter the team won or lost they are always beside the team. They know how to appreciate the game, irrespective of the result. They are exactly the kind of fans that the team and we, as players need; because you cannot move forward without the supporters. There's a reason that (the club) is called "The People's Club". When I came here I realized why; the players and the fans together form this team.
JERSEY: Kareem, tell us more about your plans of opening academy here.
Kareem: I'm planning to form an academy in the future. As you know, in cities there are lots of academies but in villages there are young kids who know how to play football and love the game but don't have the opportunity to play; their families can't afford the expenses. So I plan to do anything possible to help them.
JERSEY: Well, it was great talking to you Kareem. Thank you so much. Good luck for your upcoming season. Take care.
Kareem: It's my pleasure. Bye.