Hailed as one of the most technically sound wingers in the country, the name no Delhiite can forget is Kean Lewis. Partnering with the Brazilian Marcelinho to take on almost every opponent, Kean has emerged as a serious contender to become one of the best footballers in the country. Though Kean expresses the hurdles that has made him the player that he is today.
Coming from Maharashtra, Kean went on to play with PIFA, Mahindra United, Tata Football Academy, Fairleigh Dickinson Knights, Houston Dynamo, Mohun bagan and Delhi Dynamos. Not many knows that Kean was invited for a trial with Leicester City's academy which couldn't workout eventually. However, the hardworking forward has developed into a class player who was on almost everyone's wishlist in the recently concluded ISL Draft 2017.
Jersey correspondent Neelam Sharma spoke to Kean shortly after he was picked up by Pune City for the upcomign ISL campaign. We must admit, in spite of being a top footballer playing in the topmost league in the country, Kean is an outspoken character, who has many tales of success to tell. Here's the excerpt from the conversation...
JERSEY: As you started off playing in the US with Houston Dynamo. How different do you find the football back in the subcontinent than American?
Football is quite different in the US in comparison to India.It also varies at different levels in the USA. The system right from high school level is organised and developed. The players are all monitored as and when they go into college or play at the academy level, before joining other semi pro or professional teams. The development program in the US is comparable to European standards. In India, we do have college football but it is nowhere close to what it is in the US. None of the players are really monitored, neither do all the college teams have practices, and the road for those who do well at this level also is capable of going unnoticed.
At the professional level also its different. Training schedules are much more organised back there. This includes the facilities for the players like gymnasiums, pools, training masks, heart rate monitors and top quality staff. These facilities are must for professional teams in the USA. In India these facilities depend upon either the owners of the club, if they want to spend on it or unless enforced by the coaches of the teams. A sport is science in the modern world. It involves other aspects besides just player quality, practice and a good coaching. Clubs that provide all the facilities and have a proper infrastructure and plan for the team are the ones that will see most success in the longer run.
JERSEY: How did Mohan Bagan happen to you?
For over 2 years before joining Mohun Bagan in 2015, I'd been trying to play in the I-League. Whilst I used to be down on vacation from the USA, I used to try and go for the trials to different I-league clubs so that the clubs could see me play because the response I would get was that I wasn't in the system since I was playing out of the country, or "we don't know what level you're playing at in the US". All I tried for was an opportunity to train with the team, I wasn't even asking for a contract, but I was even rejected to train. No-one understood the level I was playing at in the USA which was actually Division 1 soccer (this highest level of collegiate soccer) and after every summer vacation, I would go back to my University in New Jersey without having been able to showcase my talent in India. The fact was that before going to America, I had playing experience of five years with Mahindra United and two years in TFA, but since India doesn't really track its players, I went missing in the football scene after leaving the country.
After my last season with Houston Dynamo, a well wisher and die hard member of Mohun Bagan, Mr. Anjan Datta somehow managed to arrange a trial for me ahead of the CFL after seeing my YouTube videos and CV, that my family and I was circulating around to land a club. Originally having flown back to India to try out with BFC via an agent and not working out in Bengaluru, as the team hadn't resumed training, I flew back to Kolkata for a trial ahead of their CFL. The trials went well and I was grateful to the Almighty for giving me a club for which I was in search for so many years.
JERSEY: After performing exceptionally well, Delhi decided to start from the scratch. Your views?
This is a decision that had to be taken by Delhi Dynamos. We are unaware of what their strategy is to sign Indian players this season. This was well displayed in the draft and you'll see more once they have their entire squad made. Maybe they wanted different players this season. The draft system isn't really working in favor of the players and I don't know the difficulty for the clubs either so it's hard to say what is the real reason.
JERSEY: Your season in emotions with the legends last season?
The experience was different. Most of the time in the USA or even playing AFC games with Mohun Bagan, I've played against many international players. Being able to play alongside world cup players like Malouda and Real Madrid products like Marcos and Ruben was a huge learning curve as well. They have a different aura in the dressing room. Along with the fun they are also supportive and motivate us to get the best out of us.
JERSEY: Kean, so far in Indian football it's been a roller coaster ride for you, down with injuries but you're still rated as one of the next big things in Indian football, how do u take this?
Yes, the journey has been quite up and down. I've had a good CFL followed by benching in the I-league, then a good ISL followed by injury and benching again in the I-league. Hopefully things will change in the coming years. I am keen to do well and get into the National team. I am not really aware of what people say or discuss about me. All I do is put my head down, put in the work and pray to the LORD. I know that the journey ahead isn't going to be easy either, but with my family and GOD at my side I will get through the obstacles.
JERSEY: Your thought on Government allowing PIOs to play for India. Do you think it'll help the Indian national side in some way?
Definitely, it will benefit the National team. If you hold an Indian passport you are eligible to play for the National team. PIO's don't necessarily have an Indian passport, so I don't think they should be eligible to play for the National team unless they get an Indian passport. But obviously this is a decision to be made by AIFF and the Govt. of India.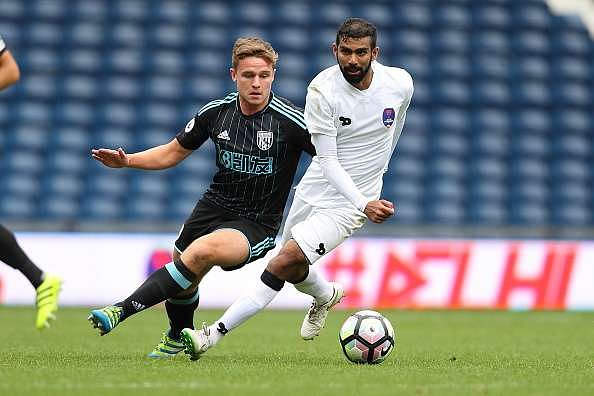 JERSEY: Last season you scored 4 goals for Delhi. Which one do you sleep with every night?
I think all the goals were incredible for me. The one against Kerala Blasters was more special since I had just recovered from injury and was back in the line up. Also Kerala had one of the best defences of ISL-3 so it was good to score against them. But scoring in general is a different addiction and thrill for me, every time the ball crosses the line into the net.
JERSEY: You've been a part of two of the biggest names in the biggest leagues in the country. How different is your experience with different set of fans?
Well, I've played in Kolkata for 2 years and in Delhi for just over 5 months. Delhi has a lesser fan following to Kolkata in terms of numbers comparatively. Of course Bagan have been one of the Kolkata giants for decades now and have a huge fan following. The love and support of the fans has been overwhelming in both cities. Having played more games in Delhi and stayed a longer duration in Kolkata has balanced out the number of fans I have gathered. The passion for the sport and its players is what motivated us as players in any city of India or the world.
JERSEY: From Delhi to Kolkata to Pune, how excited are you for the upcoming banner?
The drafting procedure and selection wasn't decision making for the players. So I'm glad to be a part of the Pune City family for this upcoming season.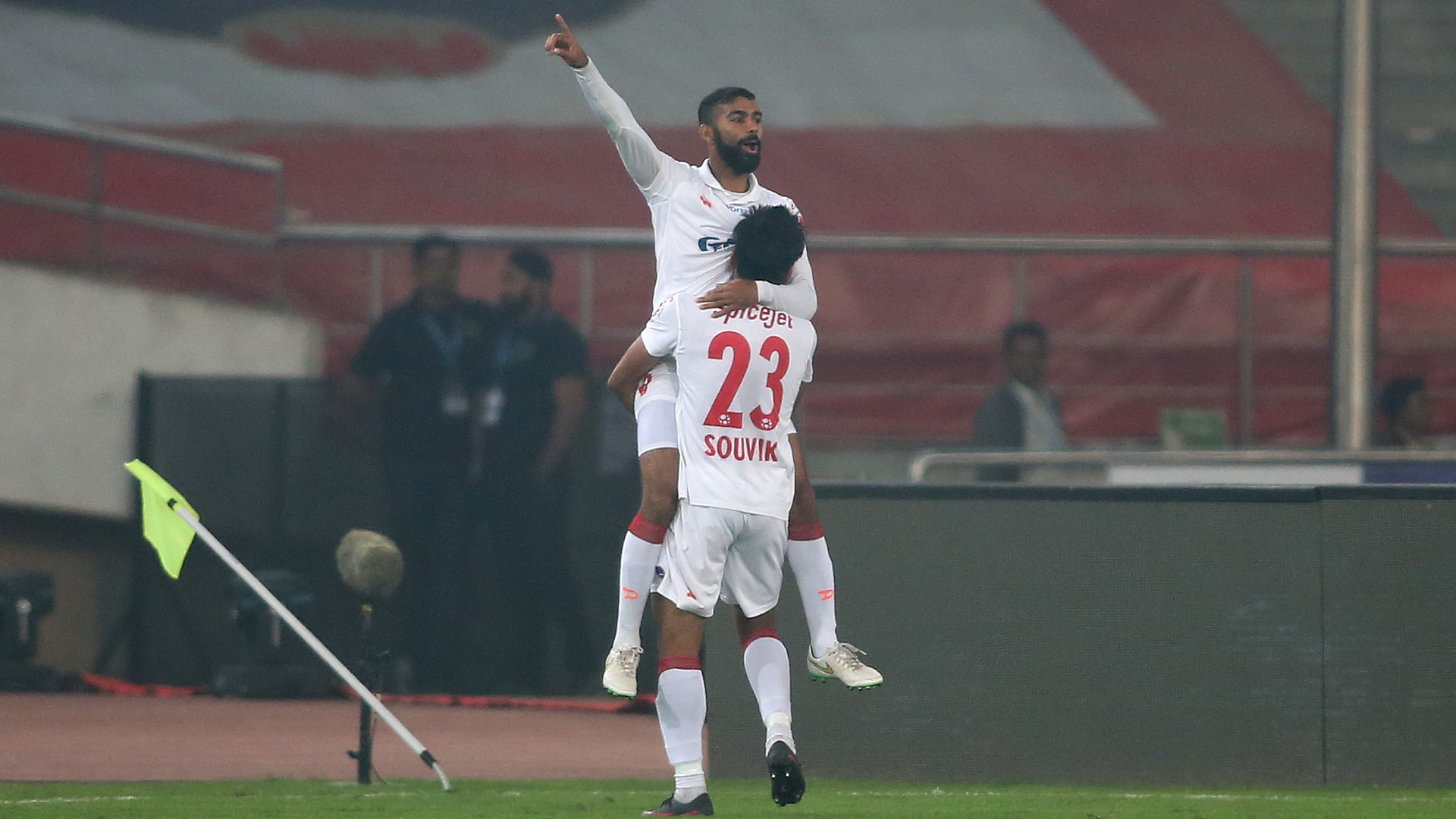 JERSEY: Your ex-Teammate Marcelinho has also joined the Pune based outfit. Do you think your talent will be overshadowed by Marcelinho, just like last season?
Well, football is a team game. Better the players we have, further can we go in the tournament. I think this is more important for me that my individual performance doesn't droop. No one knew me or Marcelinho last year, we both were unknown names. So it is possible that this year there might be a new set of names popping up.
JERSEY: You didn't have a great last season as you were out for injury. How are you gearing yourself up for this challenging role?
Injuries are the part and parcel of the sport. I was out for 2 months in the I-league recovering from a muscle injury. I'm thankful to god that I didn't have to undergo any surgery. God always has a plan for his soldiers, so maybe the injury came at a right time as I didn't really get to play in Bagan with foreigners playing my position. On the down side, I lost my national call up due to this injury.
I worked a lot to recover from it with the Physio and physical trainer in Kolkata, and was back playing towards the end of season. I've had no issues since returning back to the pitch, and I am still undergoing vigorous gymnastic and stability session to avoid any further damage.
JERSEY: The Orange Army and the other fans are obviously excited about your signing. They're only a handful number of fans, but are pretty organised. Any message for the fans?
The fans are important for us players when we're on the field. They give us that extra boost. Hopefully we do well and manage to get more fans to come support us in Pune. Being from another city in Maharashtra, for me it'll be special to play within the state again and get backing from the locals.