When I started following Indian football back in 2003, I thought Beckham was a part of team India. Later as I researched more, I laughed! For a while, there were just three names I knew as far as Indian football was concerned—Bhaichung Bhutia, Sunil Chhetri and Robin Singh. The three superstars that India nurtured…
Robin Singh is the name that I heard in many chants whenever I visited the MB-EB derbies on Kolkata. Then I decided to move on and got a job in Bengaluru but saw the similar at Kanteerava. The situation with Indian national team was no different too. Often misunderstood as the Robin Singh of Cricket on Google, Robin Singh of Football has become a bigger brand over the years. The boys call him The Dependable while many girls, The Handsome Hunk. Beginning his football career from the St. Stephan Academy, Chandigarh at the age of 13, Robin went on to justify both these adjectives in the decade to come. Making a mark with East Bengal and later with the Ashley Westwood led Bengaluru FC, Robin became an instant hit at the national camp under Stephen Constantine as well. Though the Noida born Goal-machine has had his own set of challenges, one of them being the injuries that curtailed his number of games played but his determination and hunger for more kept him going. Remember the last night goal over Mauritius?
Robin spoke to Jersey last week about his challenges and achievements. We wish Robin all the very best for the goal last night and a plethora of future goals!
Here's the excerpt from the conversation…
JERSEY: After a lot of speculations and rumours, you'd finally been picked up by ATK. You're not new to Kolkata, but as the Kolkata fans are divided among three big names, do you think your presence in the ATK dugout will get them fanbase?
I don't know what the speculations and rumours were and I don't really pay attention to them. Coming to the ATK part, Kolkata and I will always have a special connect as it was my first stint as a professional footballer and was privileged enough to play for East Bengal. Kolkata has a big number of passionate fans, they enjoy watching football and we hope they fill our stands too.
JERSEY: ISL and I-League are said to be ways apart in terms of quality. You didn't have a great ISL season last year and now that you're with the Champions, how much of pressure are you in?
There's no pressure, you learn from your mistakes and you build with them. My last season was a learning phase after my injury and I'll keep working hard and try to better the last and for this year's ISL, I am really excited and looking forward to be back with Ashley Westwood.
JERSEY: You're an experienced played with many years of football left in you. Where do you rate yourself in the lot of young and senior players?
I never rate myself it's the job of the critics. I enjoy playing every game like it's my last and make sure I work hard whenever and however long I play for. It's a good phase for Indian football with lot of young and talented players coming in. National team coach Mr. Stephen Constantine has done a great job in amalgamating this team.
JERSEY: You made a choice between Football and Cricket at an early age, why football? Do you regret this decision now?
It was a choice I had to make at the age of 14, football runs in the family and in my blood since my grandfather was also a footballer and my mum being from Kolkata and I chose football in a heartbeat.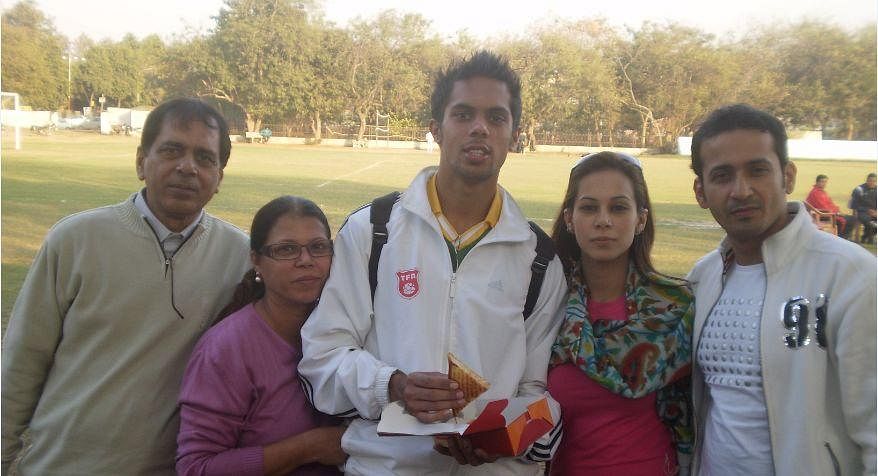 JERSEY: You've played most of your football in the generation when there was hardly any recognition. How in your view have things changed by changing the canvas of Indian football?
Things are bright for the future of Indian football and there's plenty more to come. I think the games being televised and the coverage that we get now is helping football in getting the recognition it deserves and with lot of top quality coaches and players coming to India , Football as a sport is improving as a whole.
JERSEY: Take us through your journey as a footballer.
As footballer my journey has been nothing short of brilliant but I've had my ups and downs and learnt every step of the way. I've been blessed to be a part of champion teams and have been blessed to have won trophies with each of them, I've made some great friends along the way and have been a part of big rivalries, I hope there are plenty for friends to make and memories that I will cherish for the rest of my life.
JERSEY: You've played for both top Indian clubs— East Bengal and Bengaluru FC. You made your name with the former while you won trophies with the latter. Where did you gathered yourself as a footballer?
I've learnt from each team and coach that I've played for and I hope there's more learning to come my way and I think it's my everything in totality that's made me grow as a footballer and as a human.
JERSEY: You're one of the stars that Indian football has while India inarguably isn't known for making superstars. What do you think is the problem, Quality players or marketing?
I work hard and everything else that comes with it is secondary that being said. Football has not been the first choice sport in our country until many years but as the things are changing, more number of young kids are picking up football. We are a country of 1 Billion and there is no dearth of talent. This is not just in football but any sport. We need to catch them young and lot of efforts are being made towards it and it's only a matter of time before we have a superstar of world standards from Indian football.
JERSEY: Last year you shared stage with the legend Thierry Henry at a PUMA event, what lessons did he give you?
Meeting Henry was an absolute pleasure and honour. I didn't go to meet him with an agenda of learning life lesson, I met him as his fan. Being a striker myself I have always admired him and there are not many players in this world with finishing as that of Henry. He has achieved whatever there can be achieved as a footballer and still he was so humble and grounded that I think it's a great lesson for everyone. We spoke about our experiences as footballers and how blessed we are to being able to play it.
JERSEY: Now that India is running two parallel leagues, it's believed that the situation for the players will get tense. What are your views on it.
I think its better that there will be two parallel league this year, it gives a little relaxed calendar and more jobs for Indian footballers. It will increase the competition, which is always great if you want to improve.
JERSEY: Any message for the U-17 World Cup team?
Go out there and give whatever best you can. The team has been working really hard, the whole nation is proud of you and standing with you. I wish them all the luck and success. It's an opportunity that does not come often, so let's make sure we do our best and make memories for a life time.
JERSEY: Thank you Robin for taking out time to answer the questions curated by your fans.
Pleasure is all mine.